School Holiday Activities COVID style
Small Ideas has adapted as best we can to help families still use their membership to access many discounts during lockdown.
We have responded to families requests for discounts at Takeaway venues like Boost Juice, your local hamburger shop and many others.
What has been most popular are the activity boxes that range from educational helping pre schoolers with their learning, craft and art boxes, games for older children and some zoom classes.
Here is our Guide:
1. Playgrounds
All playgrounds have re opened and parents are responsible for exercising social distancing and safety measures. To find a list of popular playgrounds in your Melbourne click here Melbourne Playgrounds  or Sydney hood click here Sydney Playgrounds
Above pictured playground is Booran Reserve and across the road is Hendrick's Burgers & Salads which offers Small Ideas members a discount on your takeaway order.
2. Fizz Kidz
3. Yo-Gainz & Get Waffled, Carrum
Small Ideas members receive 20% discount monthly
The newest edition to the beautiful area of Carrum.
Frozen Yoghurt
Protein Shakes
Bubble tea
Acai bowls
Get Waffled!
4. ARTEA
Small Ideas members receive School Holiday class $15
School Holiday workshop for children 5-12yrs. ARTea art school is a vibrant studio offering dynamic workshops for all interests online. All our workshops are facilitated by talented and qualified artists/teachers. Small Ideas members receive classes for just $15 phone and book with Helen and let her know that you are a member!
5. Meryl Mosaics
Small Ideas members a mighty discount
Phone & mention Small Ideas to receive 20% off your 'Do it yourself Mosaic or Bead Kit'
Beads are suited for toddlers and the glass for children such as my 9 year old depending. Lots of different themes such as Dinosaurs, Guitars, Unicorns and Rainbows to suit all desires!
6. Hand in Hand Activity Kits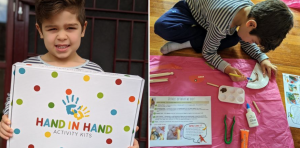 Small Ideas members receive 20%
Exciting complete craft kits delivered to your door, a with early learning guides.
My 4 year old purchased the 'Dino' pack and it game complete with a board game, arts and crafts, word puzzle and enough activities for us to do over the course of a couple of weeks!
7. Boost / Bubble Cup
Small Ideas members receive 2 for $10 at Boost & Buy 1 Get 1 at Bubble Cup locations state wide
Our highest redeeming vouchers during covid are Boost & Bubble cup tea. Found in probably every shopping centre across VIC and both offering great deals it's no wonder why our families enjoy them.
8. Legoland
Team up with Legoland these school holidays and we can bust boredom together! There will be fun and entertaining activities, including live streams, story time, awesome challenges and more, everyday! Super parents who are juggling home-schooling and working from home can breathe a big sigh of relief as we can takeover from here!
Your mission?
Check back every day from 18 September – 3 October! Can you do it? Learn more in the link below!
9. Burgertory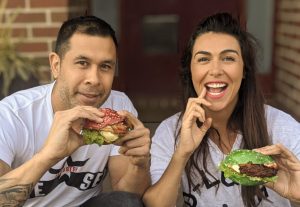 Small Ideas members receive 20% discount monthly
Under the takeaway category is a range of food options for families. Burgertory have locations across Melbourne and are increasing rapidly so each time a new one pops up you'll be sure to get a discount in small ideas. Their menu includes a wide range of burgers and not just burgers, freaky shakes, devil wings, waffles and a great kids menu.
10. Castle & Kite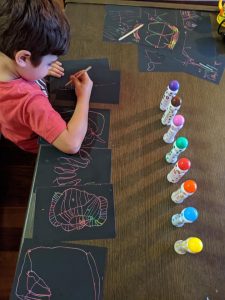 Small Ideas members receive 10% discount 
Famous for their Spot & Dot Markers and pre-prepared Craft Boxes, they also have a huge range of art supplies, learning resources and digital activities. Both my boys enjoy scratch art so we downloaded some videos from you tube on scratch art animals using your hands to trace and the results have been worth framing!
11. Cookies by Moo
Small Ideas members receive discounted DIY Biscuit Pack
Cookies by Moo have created the perfect edible craft activity that had both my boys chatting, licking their fingers and creating beautiful memories.
I bought the same dino pack for each child so they wouldn't fight. They're $30 and with Small Ideas discount they came down to $25.50.
Each kit includes 3 colours of icing, toppings and choose between Dinosaur or Unicorn themed biscuits dinosaur
You get about 12 freshly baked cookies made by a Melbourne mum and it really was a great afternoon spent chatting, licking our fingers and making memories.
12. Corkies Creations
Small Ideas members receive discounted DIY Cupcake pack
Small Ideas members pay just $20 plus small delivery charge. We had DIY biscuit decorating boxes on offer for the Western suburbs by another business so I'm happy to report that this business delivers to South/East, bayside & peninsula suburbs each week.
The $20 pack includes:
– six pre frosted cupcakes
– three chocolate and three vanilla with vanilla buttercream
– three different sprinkles
– 200 grams of mixed lollies
– Gluten Free and Vegan options available (enquire directly)
Small Ideas members can access this special deal right away search Corkies Creations under the Products category of your app.
13. Living Legends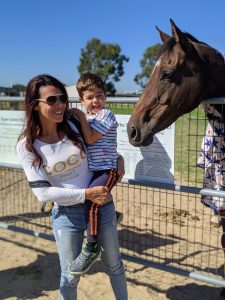 Small Ideas members receive 20% discount on devonshire tea and 2 for 1 entry
There are many beautiful walks around Victoria most of which are free. It is free to walk around the woodlands area but if you want to enter where the horses are and give them pats there's an entry fee although they are not running the tours. There's also a great takeaway Devonshire tea which you can enjoy on their property and go for a great walk. Check out your app under our Takeaway category for the Devonshire tea discount.
14. Wolfpack Games
Small Ideas members receive 10% discount 
Games for the whole family to take part from dominos to snakes and ladders and mind challenging games too!
Under Products category with 10% discount.
---
Free entry and discounts to over 500 indoor and outdoor deals. All vouchers are ACCESSIBLE & REDEEMABLE through your mobile phone. Valid 12 months from time of sign up so you can sign up at any time!