Spring School Holiday Activities in Melbourne
Wondering what to do with the kids over the Spring school holidays? We have hundreds of activities to keep the kids entertained for free or at a fraction of the cost.
If you are a Small Ideas member 'thank you' and continue scrolling for my EPIC September school holiday ideas and savings below. If you aren't a member yet you can join today for just $39.45 for 12 months access to 900+ savings.
September Guide:
MELBOURNE
JUSTIN'S BIG BALLOON SHOW: discounted tickets to see 60 minute performance, bursting with grand illusions, thrilling circus stunts and, of course, Justins signature BIG balloon creations.
From 18th to 23 September at Athenaeum Theatre.
St Kilda Ferry departing from St Kilda, Port Melb or Williamstown choose to relax on the St Kilda Ferry and enjoy the sights of Melbourne. Save 20% with our tickets.
Metartworld – Art Space pre purchase your discounted entry to The biggest scrap metal art gallery in Australia. Located in the Port Melbourne the kids are going to love the mazes and workshops!
Please note that this will be your last chance to visit the current exhibition as there will be a new one coming after school holidays!
Circus Royale (pictured)- Pre book your discounted tickets through Small Ideas valid for all ticket types. Performing at Burnley Oval Cnr Swan St & Madden Grove from 15th Sep to 8th October.
Brick Burger Pop Up Restaurant – Pre book your discounted tickets through Small Ideas. Unleash your creativity and build your burger masterpiece from a selection of colourful and delicious bricks.
Australian Sports Museum pre purchase your discounted entry to ASP located at the MCG. A great school holiday activity for kids who love their sport
Sealife Melbourne save 25% on RRP tickets valid every day over the school holidays. These school holidays from 16 Sep to 1 Oct Paw Patrol returns to Sea Life Melbourne Aquarium.
Melbourne Museum discounted general admission tickets. These spring school holidays dinosaurs are taking over the museum! There will be family friendly Dino activities and exhibitions. Small Ideas discounted tickets are for general admission, what is not included are the digital art class, the Dino show, Fantastic Beast so if you are interest in those add ons you can purchase onsite.
 If you are headed to Melb Museum why not make a full day of it and see a movie at IMAX right next door for which we also include discounted tickets.
Luna Park St Kilda save 25% off unlimited ride pass. For select days only these Spring School Holidays, Gabby & Cakey will be joining us Tuesdays-Fridays from 12-3pm exclusively, during the 19th – 29th September. Open every day during school holidays.
Melbourne Central:  We have lots of vouchers under the one roof here Hoyts, Pancake Parlour, TGI Fridays, Strike Bowling and Holey Moley isn't far either.
Melbourne Sky deck – everyone does this at least once for a spectacular view of Melbourne by day or by night.
Collingwood Children's farm save on entry and if you are going on a weekday use the 2 for 1 meal at The Farm Cafe located within the farm.
Artvo, Archie Bros, Hoyts, Pancake Parlour and O'Brien Icehouse all located within Harbor Town complex at Docklands so you can save and enjoy full day here.
Along the Yarra – Melbourne River Cruise save 2 for 1. Nearby at the Crown you can use your discount for Holey Moley & Village Cinemas also.
Albert Park Mini Golf save 50% off their family outdoor mini golf activity.
Melbourne Zoo  pre book our discounted tickets and show up whichever day you wish, no need to pre book. Kids are free during school holidays which is why we only include discount on adult admission.
Village Cinema FLASH SALE  pre purchase our discounted Village tickets and you have 12 months to use them. These are valid at any Village cinema standard session does not include VMAX, D box or VJunior. It is a big saving for just $52.80 you can purchase a family pass 2 adults and 2 kids or 1 adult and 3 kids to any G or PG rated session.
Available to purchase from September the 14th – Wednesday the 25th of October.
The Burton Bar – A Halloween Speakeasy Pop Up pre purchase our discounted tickets and save 20% duration 04-Oct-2023 To 31-Oct-2023.
WEST & NORTH
Grazeland (pictured) Funky Monkey Jungle Hangout launching these school holidays at Grazeland and live entertainment for Grand final footy weekend. Scienceworks is located nearby so I highly recommend starting there and finishing at Grazeland as the food is way better here! Small Ideas member receive 2 for 1 admission to Grazeland.
Scienceworks discounted general admission tickets through small ideas. These Spring school holidays the theme is building! Help us build a cardboard city, from towering skyscrapers and futuristic spaceports to winding roads and bustling city squares.All of these activities are included in General Admission except for The Planetarium and Lightning room they are extras that you can purchase directly through Scienceworks
Strike Bowling & Holey Moley have opened in Point Cook. We have discounted kids bowling and family passes which you can use to pre book
Rabbit Hole play centre is the most popular in the west as is available to members even during school holidays on weekdays only.
Check out our Water play section for discounts at Aquapulse, Melton Waves and Keilor East Leisure Centre. Many of these pools have outdoor areas with pools and picnic area which are only open during summer so now is the time to enjoy!!!
Keilor East Leisure Centre are hosting a school holiday program.
The schedule is as follows:Tue 19 Sept – Swim & Play (12:30pm – 3:00pm)
Wed 20 Sept – Boxing & Bootcamp (12:30pm – 2:30pm)
Thu 21 Sept – Dance & Yoga (12:30pm – 2:30pm)Pricing is $18 per session or register for all three for $50. Prices are per child. Registrations are open and available online – https://forms.office.com/r/sVAfeekEur. Note: places are limited to 20 kids per session. Or you can simply use your Small Ideas membership and save 50% on family swim
Bundoora Mini Golf 2 for 1 and is right near Bundoora Park Animal Farm where we have 1 Free Child entry so you can do both same day
Mt Derrimut Mini Golf, save 20%
Funtopia in Maidstone with 30% off play. You can pre book online using our discount code but note that this discount does not apply to climbing sessions.
Werribee Open Range Zoo, pre book our discounted tickets and show up whichever day you wish, no need to pre book. Kids are free during school holidays which is why we only include discount on Adult admission. If you would like a Pitt stop in Werribee Baby Js is the BEST and you get 15% off the entire menu under our Food category or 20% off Burgertory Werribee.
X-Golf & Hey Caddy Preston (Northland) our newest vouchers

X-Golf

X-Golf provides world leading, start-of-the-art golf simulators that cater to all levels of experience for the ULTIMATE indoor golfing adventures. We are a family friendly venue offering yummy food and beverages including a fully licensed bar. Recommended for 8 years old and above to enjoy the experience, although your little ones can come to try it out as well.

Hey Caddy

Hey Caddy is an immersive mini-putt experience to keep everyone entertained and is an awesome space for hosting kids parties, family fun nights, Friday night drinks, work functions, team building sessions, date nights and mate dates. With 18 interactive holes we are a family friendly venue offering yummy food and beverages including a fully licensed bar.

TRAC Leisure Centre – we include a 1 FREE family swim per year however, they also have a FREE entry to all on Monday 18 September with soccer clinics, reptile show + more
Mill Park Leisure are running their pool inflatable during the school holidays, 12.30 to 14.30 every Tuesday and Thursday. Small Ideas members receive 1 FREE family swim.
Lollipop's Play centre in Bundoora have a different activity each day
SOUTH/EAST
Gumbuya World, pre purchase our discounted tickets for these school holidays.
Opening Hours: 11am – 4pm dailyAttractions Available: UNLIMITED Rollercoasters, Rides, Wildlife trail (included in your day ticket)Shows / Experiences: Aussie outback experience and Free flight bird show dailyActivities: Additional daily activities as listed on their website.
Silvers Circus are performing at Ferntree Gully Hotel
1130 Burwood Hwy up until 8 October and Small Ideas members save $10 each ticket!!!
Archie Brothers Chadstone & Docklands (pictured) pre purchase your discounted Arcade Pass through Small Ideas. You can purchase as many as you like throughout the year and they're valid on dodgem cars, arcade games and claw machines!
Newly opened in Fountain Gate shopping centre is Paint a Pot where you can paint ceramics and enjoy an authentic Italian pizza. Small Ideas members save 20% on all ceramics live under our Indoor Activities category
Dandenong Oasis 50% off family swim pass valid once per month. SplashZone is back at Oasis for the School Holidays 👐
This means you can enjoy the inflatable obstacle course, Tarzan Rope and the Cargo Net. The time table is on their website as it's on 3 days per week.
Myuna Farm 50% off family entry valid once per year.

Playground is open

!!! Exciting news at Myuna Farm – our new playground is open for business! Tested out first by the MF team and Puddles (our resident duck).Shade cloth also working well providing some protection from the sun!

 PARC, Frankston 25% off family entry. PARC Aquanauts is there school holiday fun and will run from 18-28 September weekdays from 11am-3pm. Activities run on different days, so be sure to check the website ahead of time. Waterslides, scavenger hunts, face painting, balloon art + more.
Discounts at bowling for General Public valid at both Frankston and Dingley locations. Great indoor beer garden where you can enjoy yummy food! Over school holidays take advantage of their Family Saver option, more details on their website!
MoPA Sandringham, children's museum but you must pre book and ideal for children under 7 years
50% off GESAC in Bentleigh (note pirate ship pool area currently closed for maintenance)
Funtopia Carrum Downs & Cranbourne UPDATE: the 30% discount valid for play or climb or both!
Inflatable World Pakenham & Ringwood locations – Buy 1 get 1 FREE
Rainbow Town is most popular play centre with a 2 for 1 for Playground only.
Animals Fur All school holiday program save $15
Ninja Parc Bayswater save on General sessions 20% or school holiday programs 15%
Sk8house save 20% open every day!
Noble Park Aquatic Centre saving 50% off family swim
GEELONG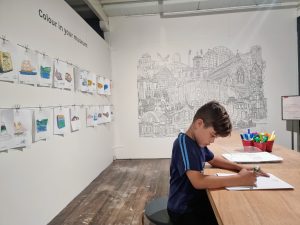 Geelong is a great day trip with a variety of activities on offer for families. Even a bbq along the foreshore throwing a freebie or using the public skate park is fun. Here are some options using Small Ideas
National Woolshed Museum (pictured), save 20% off all tickets.
MoPA Geelong is a children's museum, ideal for under 7 years. Free coffee/beverage for all Small Ideas members
2 for 1 at The Geelong Carousel along foreshore
FREE buffet breakfast at Rydges Hotel (pictured) whether you are staying there or not. If you do wish to stay we also include a discount on accommodation
Bellarine Railway 2 for 1 on regular journeys excludes Polar Express
2 for 1 on the Thomas inspired train called 84 Take A Ride
Port Phillip Ferries 20% off family pass and you can visit Port Arlington or one of their other popular journeys. PLUS kids go FREE more info here https://www.portphillipferries.com.au/kids-go-free-school-holidays/
Oz tenpin bowling – 2 for 1 at this popular bowling entertainment centre
The Messy Patch use your Small Ideas discount to visit The Messy Patch in Geelong. Really great for smaller children with huge inside play area with an inside sandpit, mud kitchens, shaving foam, water beads and painting.
BALLARAT
Ballarat Wildlife Park – pre book our discounted tickets
Kryal Castle, 16th Sep to 1st Oct & 7th – 8th Oct 10am to 4pm Dragons at Kryal Castle!Calling all dragon enthusiasts!  Who's ready to embark on a medieval adventure with our scaly friends these Spring Holidays?  Last year tickets sold out! Get your tickets now using Small Ideas to save up to 50%
Gold rush mini golf which is both outdoors and indoors save 20%
Ballarat Go-karts (pictured) save 2 for price of 1 (big saving)!!!
Chipmunks Ballarat 2 for 1 entry (excludes weekends & public hols)
Oz tenpin bowling – 2 for 1 at one of the largest bowling entertainment centres
MORNINGTON PENINSULA & PHILLIP ISLAND
Such a favourite spot for our members in summertime as these outdoor activities really come alive with beautiful scenery!
Enchanted Adventure  1 free child saving $30 My FAV activity in the Peninsula as a General admission ticket is enough for a full day of FUN. Interactive playgrounds, mazes, Tube Slides and nature activities.
Arthurs Seat Eagle (pictured) is just around the corner from Enchanted and worth doing this before Enchanted if you want to do both. Save 20% for 4 people. Arthurs Seat Eagle have a Spring Festival over these school holidays and opening hours will be extended until 7pm.Prepare to be captivated by the fusion of nature and artistry, as the Arthurs Seat Eagle Spring Festival brings you a symphony stunning native flora & fauna light installation that blankets the entire site.Families are in for a treat with a dynamic children's school holiday activity program.
From native animal shows, guided bush walks through Wonga, face painting, arts and crafts stations, Kung-Fu, music, and dance classes, there's something for every young explorer.
Saturdays come alive with live music on the expansive outdoor deck, creating an ambiance of celebration. Grand Final Weekend brings an extra layer of excitement with AFL screening and activities.
Boneo Discovery Park, save 2 for the price of 1 to Maze & Gardens. Jump into Spring these school holidays with our nature craft workshops. The kids can enjoy all our regular activities alongside some epic nature based workshops celebrating the magic of spring. Included in your park entry.
Ashcombe Maze save 2 for the price of 1 on entry, with great new cafe on site
Rocky Creek Strawberry Farm 1 Free Kids scoop of ice cream at on site cafe
Top Fun Shak 2 for the price of 1 mini golf
The Big Goose – 1 free Child or value upgrade. The water splash area will be open everyday forecast over 25 degrees
Rain Hayne & Shine 50% off and is a working farm with no on site cafe so bring snacks or a picnic
Dinosaur World save 15%
Inflatable Land Mornington – 2 for 1
Moonlight Sanctuary save 15% and follow instructions to pre book
Phillip Island, not in Mornington but if you are headed this way our most popular activity is Wildlife Cruises save 15% and see beautiful marine life. Every member that has done this has posted about it in the group saying it was such a great activity!
National Vietnam Veterans Museum Phillip Island, our newest addition to our Attractions category. Kids go FREE.
DAY TRIPS
Kyabram Fauna Park (pictured) join Small Ideas from 16 September with discounted Adult Admission. Kids are FREE during school holidays and weekends.
Heathcote Glamping Park If you're thinking about a school holiday adventure this may be the stop for you en route to visiting Bendigo, Kyneton, Nagambie or you could just hang out here and enjoy the beautiful fresh air of Heathcote with a 'shiraz' Small Ideas members can book and save up to 20%
Healesville Sanctuary pre book our discounted tickets and show up whichever day you wish, no need to pre book. Kids are free during school holidays which is why we only include discount on Adult admission.
Discovery Centre Bendigo 15% off for members!!! With over 100 interactive exhibits to explore, you won't know what to try first at Discovery. Be sure to look out for the whacky mirrors that make you look really strange, or the echoing chamber that repeats your words a thousand times over, and don't forget to play a tune on the thong-a-phone!
The Oaks Lilydale Accommodation save 15% ALL ABOARD DING DING!
Come and stay aboard our newly renovated 1935 86 yo W Class Old Melbourne Tram!
Our Tram Doris has been lovingly restored in the bygone era style and is located on our beautiful 2-acre historic property at The Oaks Lilydale Accommodation, in Lilydale, Victoria home of the beautiful Yarra Valley!
Treetops Adventure  have multiple locations and you can pre book with 15% discount. They have obstacles for under 5s as well as older children and adults. There is a location in Belgrave near Puffing Billy Railway where you save 20% so you may be able to do both activities same day.
Uncle Nevs is a horse trail riding activity that has been around since I was a child. You need to be minimum age of 8 and they run every single day in the mornings and afternoon. Small Ideas members receive $5 off each ticket and it's a BIG day both my 10 year old and I were buggered in a good way afterwards. Epic activity that I did as a child myself and now so happy to enjoy with my boys. Located in Whittlesea and worth travelling to.
Woodlands is just 5min from Melbourne airport and they are including 15% off 1 hour trail ride or Introductory to horse riding
'Drop- off' HOLIDAY PROGRAMS:
The Art Factory and Fizz Kidz are my favourite with half day classes that both my children enjoy.
This school holidays I have booked my boys in to slime workshops at Fizz kids and Tie Dye pillow making at The Art Factory.
Both businesses have multiple locations and Small Ideas members can use their discount code to book online or give them a buzz.
Looking for a full day drop-off program AllSportz is our favourite as the kids have a blast with so many sport activities and make so many new friends, save 20%!
Ninja Park Bayswater have amazing drop off programs suitable for ages 5+ and members save 15%
There's also several horse riding drop off programs. + more!
HORSE RIDING & PONY RIDES!!!!!
During the school holidays Cute and Cuddly Pony Rides operate Sundays in Port Melbourne (weather permitting)
We also include Uncle Nevs in Whittlesea which is the BEST day out for children 8 years and over. My son and I enjoyed the 3 hour trail ride and will remember this forever.
Winston Park Equestrian Centre program is so popular and finally my children aged 6 and 10 years are both going to have a go this school holidays. It's a drop off program and Small Ideas members save $20 further details on what's included time and address on our voucher!
Woodlands in Oaklands Junction 15% discount for any 1 hour tour or Introduction to Trail Riding
Animals Fur All 15% discount on holiday programs, riding lessons, pony/animal parties and mobile farm.
PLAY CENTRES
We have over 80 indoor play centres included in Small Ideas and it's a great category to burn off some energy. Check out some of your favourites to see if they have a school holiday program as many of them have a different activity each day like special character visits, face painters and/or activities like Build-a Bear workshop at some of the Lollipops play centres.
Our newest addition to the Playcentre category is McDougall Playhouse Cafe in Sunbury with a 2 for 1 entry offer.
GOLD COAST
Dreamworld Gold Coast; For the upcoming school holidays our ever popular Spring County Fair is coming back and you can find out lots of info here via this link on our website –https://www.dreamworld.com.au/what-s-on/spring-county-fair/ plus WhiteWater World reopens for the upcoming season from this coming weekend the 9th September through until the end of January 2024.
Small Ideas members can purchase Discounted Entry to Dreamworld 1 Day or 3 day unlimited to Dreamworld, Whitewater world & Sky Point.
Looking for QLD Accommodation discounts, we have just listed Paradise Resort!!!
OVERSEAS ACTIVITIES
Under our Visit Overseas category you will find an array of activities that are provided by our third party Klook. Once you apply the promo code supplied these activities are discounted by 10%.
Small Ideas is just $39.45 inc GST and includes Free entry, 2 for 1s and % discounts to over 900+ indoor and outdoor activities that are suitable for families. All vouchers are ACCESSIBLE & REDEEMABLE through your mobile phone & some require pre booking. Valid 12 months from time of sign up so you can sign up at any time. Order here!